Nordic Art Today: Conceptual Debts, Broken Dreams and New Horizons, St Petersburg, Russia 2011
Nordic Art Today is a large-scale international exhibition where the team of 6 curators and 35 artists present their visions of cultural, social, historical and geopolitical transformations, the consequences of global economic crisis in the changing world as well as other issues raised by modernity.
Artists from Norway, Sweden, Finland, Iceland, Denmark and Russia analyze in their art works the contemporary society and suggest various scenarios for its further development. The range of works is extremely wide and includes videos, images, site-specific and sound installations, documentation, drawings, photographs, etc.
Nordic Art Today: conceptual debts, broken dreams, new horizons is the first large exhibition within the framework of the 5-years project Nordic Art Today which began in 2010. This exhibition gathers together the most relevant art of the Nordic region andt akes place in St. Petersburg for the first time. This show is intended to contribute greatly toward the strengthening of partnerships and even better cooperation between Nordic countries and Russia within the sphere of contemporary art.
The concept of the exhibition was developed by the international curatorial team consisting of Kari J. Brandtzaeg, (Norway), Birta Guðjónsdóttir (Iceland), Anna Bitkina (Russia), Power Ekroth (Sweden), Aura Seikkula (Finland) and Simon Sheikh (Denmark).

Artists: Tatiana Akhmetgalieva, Kasper Akhøj, Lene Berg, Eva la Cour, Nanna Debois Buhl, Leander Djønne, Silas Emmery, Steingrim ur Eyfjörd, Gunndis Yr Finnbogadottir, Bodil Furu, Ivan Galuzin, Goksøyr & Martens, Allen Grubesic Tamar Guimarães, Bjørn-Kowalski Hansen, Goran Hassanpour, Siri Hermansen, IC-98, Unnar Örn Jonasson & Olivia Plender, Vlad Kulkov, Anna Lindal, Bjarki Bragason, Dorinel Marc, Hans Rosenström, Soap Group, Stas Bugs, Johan Thurfjell, Grigory Yushchenko, Jani Ruscica, Johan Zetterquist.
The part curated by Power Ekroth included artists: Allen Grubesic, Goran Hassanpour, Bjørn-Kowalski Hansen, Dorinel Marc, Johan Thurfjell and Johan Zetterquist
HIT ME WITH YOUR RYTHM STICK! By Power Ekroth
What is "Nordic Art Today"? Well, there is just not any good answer to that. But there are a lot of (interesting) questions adherent to such a label.
First of all: does the regional origin of any work of art have a quality to itself in a globalized world that could be pinned down? Twenty years ago it was common to assert that Nordic art had a special melancholy to it, that it had a special kind of light in it, that it was possible to generalize about the themes of the Nordic art – that it generally used themes of nature and nature's forces. Back then institutions of the north took pride in trying to become more and more part of an international discourse and to remove the brand of being peripheral, not only geographically but intellectually and artistically. Many different initiatives and promotional projects were kick-started with funding that supported (only) the Nordic arts which in reality put the last nail to the coffin and only managed to reduce the label «Nordic Art» into just a label without content.
Plenty of things have since happened in the Nordic region, especially on a political level, which in turn also means that the cultural policies have changed. Neo-liberal winds have since swept in over the North, even in Sweden, the "traditionally" social-democratic country. The economy is looking daunting everywhere in Europe and the future doesn't look as bright as it did earlier. But how does this affect the art and artists regionally? Well, a great deal of the Nordic artists live and work in other parts of the world than the Nordic, in fact they migrated, but kept their Nordic passports in order to lower their living costs, to a sort of economical and ideological exile.
If there is something that could be said to be "Nordic" these days, it is for sure in a dissolving state, a state of selling out (selling out of state property housing, ideals, hospitals and social security systems – i.e. the entire so called welfare state etc). Any attempt of trying to use a geographic outline for art is by definition very vague and unclear since ideas don't really pay that much attention to borders. Nevertheless, countries has their national institutions and some regions have institutions that cross the national borders and in turn form other criteria for their reign – such as several Nordic cultural funds that are amazingly still supporting the arts. These national and regional institutions set the agenda for cultural policies and hence also for expressions of the "national" or the "regional" such as an exhibition like the one this catalog text is for.
One can however note that there are a lot of art, great art, being made by artists with Nordic passports, either within the region or outside. The six artists chosen for the part of the exhibition with Nordic Art Today by myself were born or have roots in Sweden, Norway, Romania, Former Yugoslavia or the Kurdistan part of Iran and have lived in many different places geographically. The artists were not chosen because they are in any way representatives of Sweden, Norway or the Nordic region, or even Nordic Art Today – even if in a definition they truly are. The artists were chosen because they are challenging artists that communicate with their work of art with both visual pleasure and intellectual wit and sharpness, while adding to it a layer of emotion that can hit you right into the solar-plexus, just like a great piece of music or literature.
Sweden has, or rather had, one of the best systems for supporting the arts and the artists in the world. Like one artist put it right after the change of governments in 2006 from a Social-democratic rule to the rule of Moderaterna and the liberal alliance "The last days of disco are over". The liberal alliance kept their position of power through the last general election of 2010. The so called Swedish Democrat party were elected into the parliament, a party known for their nationalist and far-right views with a cultural agenda that consists more or less of a simple gesture about erasing the contemporary art. Contemporary artists are in Sweden now told to become entrepreneurs in their field and that if they cannot live off selling their art: they are not good enough artists and should change their line of work. One could very well say that the new horizons of the contemporary art are quite daunting. These "New Horizons" of the Nordic Art Today are basically a sort of a sobering-up rehab center after the last disco days. However, in times of economical poverty great art will always be done no matter what, and some of this art will hit where it hurts the most. Allen Grubesic, Bjørn-Kowalski Hansen, Goran Hassanpour, Dorinel Marc, Johan Thurfjell and Johan Zetterquist are all artists perfectly capable to formulate a multiple of drum-whirls of well-balanced humorous, intellectual works with just the necessary edge. These qualities are just exactly what it takes to continue working as an artist even after rehab, this since ideas are the most valuable currency we are dealing with - and as it happens, also the most addictive drug there are.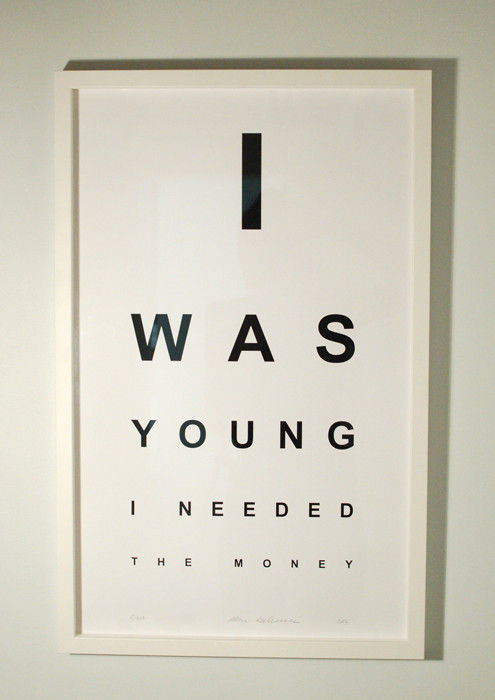 Allen Grubesic, I was young..., 2007
Johan Zetterquist, Proposal for Public Art no 14: A Hole Through the Moon,
Johan Zetterquist, Proposal for Public Art no 14: A Hole Through the Moon,
Goran Hassanpour, Tower of Babel, 2011
Dorinel Marc, A Better Life Soon, 1998-2001
Bjørn-Kowalski Hansen, That's The Way The Cookie Crumbled, 2011
Johan Thurfjell, Messages to a Friend: Patagonia, 2006