UNDER THE SKIN, OFF BIENNALE, CAIRO 2015
Under the Skin
The exhibition took place in a previous hostel in Downtown Cairo during the last five weeks of 2015, and it was part of the larger concept initiated by DARB 1718/Moataz Nasr and curator Simon Njami named OFF-BIENNALE, SOMETHING ELSE, which in turn is a reaction to a situation in Egypt and Cairo which can be described as problematic for art and free speech. We did not have any budget, so of course it is an amazing feeling to be part of a group of in total more than 115 international artists, curators and wonderful volonteers that all work for free to create something positive within theses circumstances. For this exhibition I took the not-so-politically-correct choise to exhibit my partner in life, Juan-Pedro Fabra Guemberena. I find it problematic for a curator to include their lovers/partners etc in the exhibitions, however Juan-Pedro is not only a brilliant artists (yes I'm biased) but he is also an old friend of Egypt, Cairo, Darb 1718 and Moataz Nasr, and he is as passionate when it comes to Cairo and its art scene as I.
This exhibition might not have had a budget, and it is a miracle that we pulled it off at all, but it is most likely the one I'm most proud of as it is so close to my heart. Like the title, it is "under the skin" of mine.
Below the letter I sent to the participating artists after the show was mounted which describes the show for the artists who did not have a chance to see it for themselves:
Dear all artists,

First of all: GOODNESS GRACIOUS HOLY HELL MUCH of THANK YOU!!

The exhibition, one part of the "Off Biennale" named "Something Else" is now up and will be up until the 28th of December. The show is installed in a newly semi-furbished and T-shaped large apartment with eight, large and bright rooms (previously a hostel) in the central parts of Down Town. Two other apartments in the same building were filled with art too. I want to give a short overview of the exhibition for those who were not able to go, and I attach some crappy small mobile photos just to give you an idea. Let me start with just some words about the context.

The "off bienniale" is an initiative of Moataz Nasr, founder of Darb 1718, and his buddy Simon Njami, independent curator known for his great interest and knowledge of artists coming from the continent of Africa. The initiative is an attempt to create something interesting and positive in a time where Egypt has gone from really bad to worse, where freedom of expression has been reduced to basically extinction, and art has a very limited arena to navigate on. With their own words, it is about showing solidarity and expressing love for the art, and in words of lesser beauty (mine): the initiative is a big "fuck you" in the face of the repressive state. Moataz and Simon are old buddies of mine too, and for myself, this exhibition was a lot about showing solidarity to the situation, love towards the people of Egypt and of course a chance to say "fuck you" to a military dictatorship, while at the same time having a chance to actually show some great art and having a great time in Egypt, a place that has been "Under my skin" since a long time.

There was a lot of interest coming from all over to participate in this show, too, there were more than 110 artists participating and I lost track of how many curators. The organizing foundation, Darb, does not have the capacity, nor the knowledge to host such an event -- there are maybe seven that works there in total and then many volunteers. The thought is that they want this event to occur on a regular basis, maybe biannually or annually, and this first year was a way of exploring what is possible to do without any budget. I think you might understand what chaos this might create for everyone involved, especially for someone who is not prolific in Arabic. There was indeed a big "uphill" to get things going, but after a looooot of waiting and a loooot of patience an after a high degree of frustration (duh) we somehow managed to finish everything (with the great help of three amazing French volunteers who came with a lot of energy and a lot of imagination of invention).

When you entered the space of our exhibition "Under the Skin", the first thing you could see was the work Flag of Nowhere - 2015 (jute sack & bamboo stick) of Marco Montiel Soto. This work was alone in the very first space. The work-tag stated

"This work explore the intersections between political and poetic territories, Motherland and precarious heritage, nationality and homelessness, borderline and exclusion, decolonization and resistance."

This first room is in the lower bottom of the T. During the opening, Marco's flag had to compete with a performance where an artist was washing other peoples hands for 30 minutes, so I avoided this room a bit myself to distance myself from the performance invited by the larger concept.

In the second room, you'd find Simon Mullan's 3 x 4 meters large textile collage named Men Down, 2015. The tag stated

"The textile collage is made by a patchwork of cut-up jackets used by US soldiers in Vietnam and the Los Angeles Police Department. The design of the so called «bomber jackets» was originally made in the 40s for the US air force, but the design became very popular from the 70s and onwards by a wide variety of subcultures, like the mods, the punks, the skinheads, the neo-nazis, the gay community or the hip-hop culture. The polyester jacket comes in different colors that became signals of who the wearer was: green, blue, black, gray or red. All jackets have an orange inside, made especially for pilotes in an emergency situation, who could turn the jacket inside out to be able to be visual and hopefully saved. Some subcultures wear the jacket inside out to show their color of culture. In «Men Down», the torn, used jackets that bear the remnants from violence and agitation, are sewn together into a palimpsestic patchwork bearing new meanings."

The sheer size of the work is impressive, and it caught a lot of attention during the opening, and there was a lot of selfies taken in front of it.

When you after this entered the corridor towards the top of the "T", we found a way to exhibit two flags made by Klas Eriksson, with Morse code. The first flag (They Keep Calling(Cairo 2009) - 2015) had a tag that stated:

"The work derives from a video recording of the traffic in Cairo 2009. The constant car horns that was heard has been translated into Morse codes and then further translated into text and then printed onto a flag. The duration of the recording was a 1.08 minute."

And the second flag (They Keep on Calling (Cairo 2015) - 2015) had a similar tag, but the recording was 2.05 min long. (the installation of this piece included inventing a flag holder by some found screws from the ceiling and turning sticks from paint rollers stolen from another apartment into flag poles and glue, this after having made and waited for perfect wooden poles that never showed up). I had a lot of questions about the work from people who couldn't first understand it, so it was rewarding replying to them.

After this you had to make a choice about where to go, left or right. If you went to the far left, to the corner room, you'd find the projected film (ca 9 min loop) "A Void" (2013) by Katarina Löfström with the tag:
"The backdrop in A Void is taken from the well known Disney film Alice in Wonderland, but the foreground is made from combining patterns from psychedelic oriented tribes in Mexico, and some of the patterns and color-hallucinations that emerges within the brain when in meditation or when you are asleep. The human brain is constructed in a way that it produces patterns in the form of squares, edgy flashes and other geometric shapes. Similar patterns can be found on pieces of clay from 60.000 year old vases, and in many religions these abstract patterns are used to infuse meditations.".

I know several people who stayed in here for 20-30 minutes and came out saying stuff like "Oh, this was soooo trippy!" and at one point during the opening I had to open up the door since someone had closed it, wanting to see the film uninterrupted by other people.

Next to this room, you'd find Daniel Hoflund's installation Nefertiti, a work that had many people say "OMG this is how it used to look like in my old teenage-room!" and they were talking about what sort of posters they had at home. I'm so happy he chose the colour pink for the background to the posters - it is a colour I use in many of my exhibitions, and Daniel didn't know this, so it was a lucky coincidence. This was the text from his tag:

"Nefertiti" consists of idol posters of the iconic singer Rihanna, taken from various German music- and teenage magazines. The influential pop star, well known for reinventing her style and image, is considered a contemporary role model, that highly influences a generation of young women. Hoflund's work combines the different ideas of idols by juxtaposing the icons of Rihanna together with the concept of Nefertiti. The work connotes the idea of the young boy or girl, posting images in their objects of desire and worship.

In the next room one could find Juan-Pedro Fabra Guemberena's 6 minute long film with his grand old aunt Gladys. This is a highly emotional film that had both curators, artists and "regular visitors" crying after in the hallways. Tag:

Gladys, 2014, portrays the artist's grand old-aunt trying to sing "The Daughter of Juan Simon". While singing she goes through the process of reconciling herself, approaching the agonizing emotions about death.

Connected to the work Gladys, one can find the large scale collage by Juan-Pedro named "Gurrumino". The architecture of the piece sort of makes a special kind of room for the video, and JP seems to have been invited to the Dakar Biennale by Simon Njami because of it. So I think it is wrong to include your partner into a show if you are a curator. Nevertheless, I did that this time due to the fact that we had ZERO as a budget and I knew that I could pay for Juan-Pedro's ticket with the traveling stipend I had from the Publicists' association to go to Cairo earlier this year to do some interviews. I thought that it would basically be up to him and me if we managed to do anything... It might sound as if I regret the nepotism, but frankly, I don't, Juan-Pedro's work kicks some serious butt. Tag:

El Gurrumino is the name of a lullaby Fabra Guemberena's mother used to sing him to sleep when the family had been forced into exile in Europe.The lullaby is translated in the large-scale collage-drawing. The mother made no distinction between political battle-songs and traditional lullabies like the one about "El Coco" (the Boogeyman) taking children in the night.

Before moving to the next room on the left, one found a toilet more or less in ruins. This became the perfect site for Axel Petersén's videoloop (almost like a GIF) "Miracle Aside". Now, this is a work that is absolutely stunning, but the site for the LCD monitor was so perfect for it that it somehow merged with the film and became an installation together with the film, and I got a lot of feed-back on the installation as a whole actually. Tag:

"The silent video which is looped, shows a red emergency flare over a pitch dark sky. The red dot vibrates within the installation as if alive, but it never lands."

In Linda Tedsdotter's room one found a flat LCD mounted on the wall, two bean-bags to sit on and a big, old, "fat" TV on the floor for the installation When the light begins to change - 2015. On the LCD one found a 27 min long film with a Syrian female and a Swedish male talking to an invisible person about their fears and what that can mean. The Syrian female spoke in Arabic, and the Swedish man in Swedish -- everything translated to English. On the old telly, one found a cat and a mouse closed in a room, the cat being so domesticated that he/she doesn't know what to do with the mouse who lives through the film. I had a LOT of feed-back on the cat & mouse-film, people loved it! Since it was the opening, and people were more interested in mingling than watching a 27 min long video, I had only very little feedback on this, but the feed back I did get was about the rather lame Swedish guy.


In the last room, one can find the two wall-paintings by Johan Zettequist Proposal No 24 DISOBEDIENCE and Proposal No 18 FREE LSD - 2015. I'm not going to write the whole story about the route to finishing these pieces, but it involved a lot of waiting, a lot of "oh no" and a lot of French sweat. And we never managed to get the colours that we wanted from the beginning, but the mint green and the really light pink did the job in the end and we were really happy. Tag:

For a number of years, Zetterquist has been working on making (conceptual) proposals for large-scale public art in a series of works. The notion of "public art" is often quite unsexy, with the few exceptions of bombastic monuments, often large, phallic and affiliated with some fascistic regime that are so politically incorrect that it would be impossible to admit liking the works. Zetterquist's proposals are very unlikely to come true, but the models and outlines consisting of drawings, sketches etc. becomes the objects of installations and sculptures in themselves. The two proposals in this exhibition come in the form of wall paintings.

Probably the most successful work of art from our exhibition never made it to our exhibition. It was "stolen" from us by Simon Njami, the head curator, since he loved the piece so much. Goran Hassanpour built his truly splendid work named "Through Looking Glass" in the main exhibition at Darb. He had to work for 24 hours in a stretch and the result was magic. The work changed it's visual expression a number of times, but the final work -- that most likely will fall into pieces as time goes by -- resembles a pigeon tower or a minaret. And it is threatening. The starting point for this work is an Islamic pattern made to control a grid. Since I feel that I nevertheless is involved in the reason the work is on display, I include this in our exhibition too somehow. Goran had a lot of feed-back on his work of course, since it was a real "eye candy piece".

Marco: your work will come back (inshallah) in January together with Juan-Pedro's work. I will get back to you later on this issue.

Below the really short text that I wrote for the exhibition:

To have someone, or something, under your skin can mean two quite opposite things. It either means that you are attracted to someone/something to the degree that you are almost obsessing about it/them, or it might also mean that you are annoyed, repelled or provoked by someone/something. This is valid also for a situation or a general notion. Some stuff gets under your skin more than other, naturally this is due to our personal prejudices and prior experiences.

When it comes to art, however, getting a piece of art or a whole exhibition "under your skin" might entail either of the two meanings mentioned above, but it always means that it actually changed something within you. This is all in all a highly rewarding experience, and it is not something that comes guaranteed unfortunately. But when it happens, it is like magic. It might have triggered an emotion deep down, possibly hidden even from yourself, or had kick-started a series of intellectual responses in your mind. These types of reflections can be impossible to keep inside, and must be shared with someone else. This is also why art, at the end of the day, has the inner potentiality to actually, however slowly, change the world, as we base our actions on emotional and intellectual inputs.

How we live and integrate with others, and our immediate surrounding, affect not only our own personal lives in a very direct way, but it also generate how others and the surrounding will integrate with you. The personal is the political, and the political is the personal. The artists exhibiting in the section named Under the Skin were all invited to reflect on the overall theme, where the intimate and the sensitive are shared towards a larger context, with the aim of eventually finding its way under your skin.

Let me say it was great doing this with you guys, and we really had a great time in Cairo together -- and we missed you who weren't around! Let's do it again, and let's get some cash for it the next time, huh?!? And let's kick Sisi out of office too...!

Big kiss to all of you, and again: THAAAANX!!
xxx
/power
 
Artists:
Klas Eriksson, Juan-Pedro Fabra Guemberena, Goran Hassanpour, Daniel Hoflund, Katarina Löfström, Marco Montiel-Soto, Simon Mullan, Axel Petersén, Linda Tedsdotter, Johan Zetterquist
Curator: Power Ekroth
Biographies:
Klas Eriksson
Born in Sweden 1976
Lives and works in Gothenburg, Sweden
Klas Eriksson finished his MFA at the Royal Institute of Art in Stockholm, 2010. He is represented at private collections, public art agency Sweden, Swedish Art Council, Christian Larsen Gallery and Eduardo Secci Contmeporary. He has exhibited internationally, and appeared in; Art Paris, Bologna Art Fair, The Bucharest Biennale 5, Copenhagen Art Festival, Checkpoint Helsinki, Telemarks Kunstsenter, Prosjektrum Normanns and Kreuzberg Pavillion among others. He has received both public and critical acclaim for his spectacular performances with flares and colored smoke bombs in public spaces. His practice orbits within performance, photo, video, sculpture and painting.
Juan-Pedro Fabra Guemeberena
Born in Uruguay 1971
Lives and works in Berlin, Germany and Stockholm, Sweden
Juan-Pedro Fabra Guemberena graduated from Royal Institute of Art in Stockholm 2002.
Fabra Guemberena's work has been exhibited extensively internationally, among others in the exhibition "Delays and Revolutions" at the 50th Venice Biennale, 2003; "My Private Heroes" Marta Hereford Museum, 2006; "The Moderna Exhibition", The Modern Museum of Art, Stockholm, 2006; "Favored Nations", 5th Momentum Biennal, Moss, 2009; 1st Biennale of The Americas, Denver, 2013; and the School of Kyev, Kyev, 2015. He is represented in collections such as The Modern Museum of Art, Stockholm; Sammlung Goetz, München; and The Wanås Foundation, Knislingen, Sweden.
Goran Hassanpour
Born in Kurdistan/Iran 1977
Lives and works in Gothenburg, Sweden
Goran Hassanpour graduated MFA at Valand Fine Art department Gothenburg University 2008 and has since exhibited in various shows in Sweden and internationally. He exhibited in a satellite project, Matter & Memory, of the Moscow Biennial, 2007, in the Swedish Institute in Paris, in the Swedish Embassy in Berlin, in Bonniers Konsthall, in the exhibition and residency FAMES: Family Vaudeville in Cairo, Egypt, Nordic Art Today: Conceptual Depts, Broken Dreams and New Horizons, 2011, Etagi, St. Petersburg, Russia and the 7th Momentum Biennial, Six Impossible Things Before Breakfast, Moss, Norway, 2013.
Daniel Hoflund
Born in Sweden 1978
Lives and works in Stockholm, Sweden and Berlin, Germany
Daniel Hoflund is a visual artist and filmmaker with a MFA at the Royal Institute of Arts in Stockholm and have since then been exhibited internationally. In 2014 he was given the honourable mention for the Berlin Art Prize and received a two-year working grant from the Swedish Art Grants Committee. Recent exhibitionsin 2015 include State of Being at Gallery Belenius/Nordenhake (Stockholm) and Nordic Film Festival at Villa Borghese (Rome). As a finalist in 2015, he is currently enrolled in an assignment with a public artwork for the New Karolinska Solna Hospital.
Katarina Löfström
Born in Sweden 1970
Lives and works in Stockholm, Sweden
Katarina Löfström received an MFA from the University College of Arts, Crafts and Design in Stockholm and works primarily with video, digital animations, audio interactivity, and sculptural installations. During the late '90s, she worked with Swedish commercial film with director Jonas Åkerlund, scripting pop videos for amongst others Madonna, Prodigy, Moby and Metallica. As part of IASPIS Studio Programme she stayed at Künstlerhaus Bethanien in Berlin and began to work with Jan Winkelmann at Winkelmann / Berlin, a collaboration that lasted until 2008. Since the turn of the millennium Löfström's work have been presented in solo exhibitions at, among others Index in Stockholm, Norrköping Art Museum, Skellefteå Konsthall, Malmö Konsthall and Uppsala Art Museum. She is preparing new work for a show in Bonniers Konsthall, Stockholm. She is currently working on three public commissions. Katarina Löfström is represented by Andréhn-Schiptjenko in Stockholm.
Marco Montiel-Soto
Born in Venezuela, 1976
Lives and works in Berlin, Germany
Marco Montiel-Soto studied Photography and M.A. Sound Studies at the Universität der Künste Berlin. His work has been presented in numerous exhibitions in South America, United States and Europe such as Museo de arte contemporáneo del Zulia Maczul, Maracaibo 2015; Galería Carmen Araujo, Caracas 2014; 5th Marrakech Biennale 2014; Kunstraum Bethanien, Berlin 2014; Kinderhook & Caracas, Berlin 2013; Galería D21, Santiago de Chile 2013; Ars Electronica Festival, Linz 2012; Museum of Latin American Art, Long Beach 2011; Hamish Morrison Galerie, Berlin 2011; Savvy Contemporary, Berlin 2011; Kommunale Galerie, Berlin 2010; Espacio Al Borde, Maracaibo 2010; Haus der Kulturen der Welt, Berlin 2009; CCCB, Barcelona 2009. In 2013 he participated in Taller Bloc-D21 art residence program in Santiago de Chile, in 2015 participated in Lamosa Permanencias art residence program in Cuenca – Spain, and has been invited to participate in different projects for the Berliner künstler-daad programm.
Simon Mullan
Born in Germany 1981
Lives and works in Berlin, Germany and London, Great Britain
Simon Mullan studied Transmedia Art at University of Applied Arts, Vienna, followed by Royal University College of Fine Art, Stockholm video department.
Recent Solo Exhibitions include Blue velvet, Haubrok foundation/FAHRBEREITSCHAFT, Berlin; Popularis, Belmacz, London (2015), Alpha, Belenius Nordenhake, Stockholm (2014) and City / Urban Camouflage / Belmacz, London (2012). Recent Group Exhibitions include Event Potential / Harbor gallery / New York, Regina Rex, New York; State of Being, Belenius Nordenhake, Stockholm; Collateral Drawings, Beaston Projects, Berlin; Facets, GSL Project, Berlin; Art Rotterdam, 3044BC, Rotterdam (2015), Artissima, Torino and REDUX at Inoperable gallery, Vienna (2014). He is included in the collections of Haubrok Foundation / FAHRBEREITSCHAFT / 'kleiner raum' 2015, Belmacz / UK / Fresco at Daviesstreet 45 / London UK. 2012.
Axel Petersén
Born in Sweden, 1979
Lives and works in Stockholm, Sweden
Axel Petersén is a visual artist and film maker, who's made a vast variety of films, videos and video installations that's been shown widely in art galleries, institutions, film festivals and cinemas around the world. He holds a MFA from The Royal Institute of Art, Stockholm, he also studied film at FAMU, Academy of Performing Arts i Prague and was part of the Mountain School of Arts in Los Angeles.
Linda Tedsdotter
Born in Sweden 1975
Lives and works in Gothenburg, Sweden
Linda Tedsdotter graduated 2001 from the Valand Academy of Fine Arts in Gothenburg. She have since then shown her work in solo shows at Newlyn Art Gallery Pencanze, Invaliden1 Berlin, Stenasalen Gothenburg Art Museeum, Varberg Konsthall and groupshows at Palais de Tokyo Paris, Moderna Museet Stockholm, Göteborgs Konsthall, Museeum of contemporary art Zagreb and Kaohsiung International Container Arts Festival. Combining her artpractis Tedsdotter is also freelancing curator, teacher at Domen Artschool, boardmember at Röda Sten and are running BRA10 (a performanceplattform) and the residenceprogram at Konstepidemin Gothenburg
Johan Zetterquist
Born in Sweden 1968
Lives and works in Gothenburg, Sweden
Johan Zetterquist graduated from the Valand Academy of Fine Arts in Gothenburg. He has shown recently in solo shows at Göteborgs Konsthall, Kill the Poor Eat the Rich, 2015, Göteborg, Borås Konstmuseum, Borås, Invaldien1, Berlin, Kristinehamns Konstmuseum, Kristinehamn and Jönköping Konstmuseum, Jönköping. He is represented in many prestigious art collections such as Magasin 3, Gothenburg Konstmuseum, Malmö Konstmuseum, the Swedish Arts Council and he has also made one of the proposals for public arts into a public art sculpture in Jönköping, Proposal No 17,Tall Parking House.
Marco Montiel Soto, Flag of Nowhere.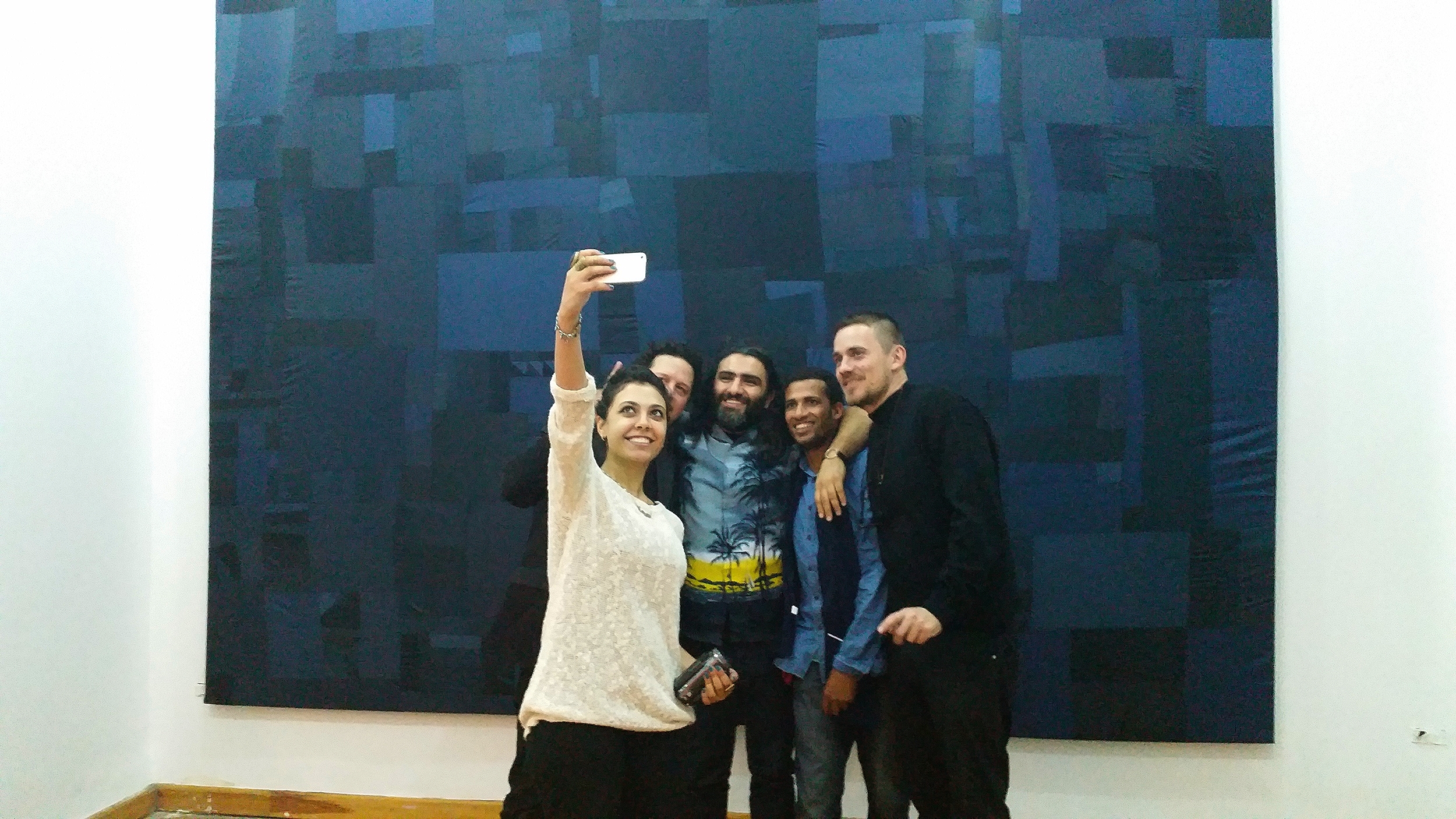 In front of Simon Mullan's Men Down.
Klas Eriksson, They Keep Calling (Cairo 2009) and They Keep Calling (Cairo 2015).
Installation view, Daniel Hoflund.
Katarina Löfström, A Void.
Juan-Pedro Fabra Guemberena, Gladys.
Juan-Pedro Fabra Guemberena, installation view from the room of Gladys, looking at the backside of El Gurromino.
Juan-Pedro Fabra Guemberena, El Gurromino front.
Linda Tedsdotter, installation view (before hiding the cords)
Installation shot, Linda Tedsdotter.
Axel Petersen, Miracle Aside, video.
Axel Petersen, installation shot.
Johan Zetterquist, installation view, Proposal no 18, FREE LSD
Johan Zetterquist, Installation view, Proposal No 24, DISOBEDIENCE
Goran Hassanpour, Through Looking Glass.
Théodore Famery and Johan Zetterquist installing.
View from a balcony of the apartment